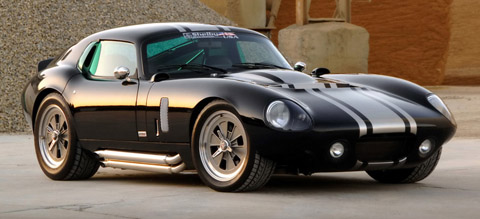 Superformance Shelby Daytona Cobra Coupe 480
The Superformance Shelby Daytona Cobra Coupe is well known for the major transformations in the American road racing. It is the first American car ever to mark a victory at the World Manufacturer's Championship and it got the name of "Daytona car" as a part of its participation in the Daytona race.
The car is designed by Peter Brock and Bob Negstad and it makes use of the past and present technologies and it comes out with a vinylestere and glass body structure mounted on steel tubular frame and fuel tank of 20 galloon capacity.
The Daytona Coupe consists of a 427 IR motor with fuel injectors, aluminum radiator and oil coolers that cools the motor by using the dual electric fans. The maximum output power is 556 bhp and the torque is 553 lb-ft.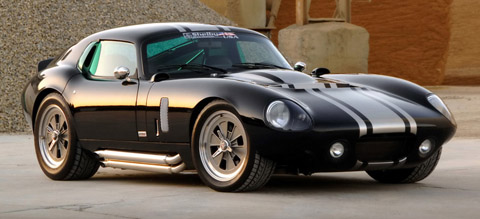 The independent suspension on the front and rear makes use of the power assisted steering and it features the Bilstein coils with shock absorbers. The 18-inch alloy wheels consists of ventilated disc brakes on all the wheels with power assisted calipers.
The exteriors feature the muscular body structure with tinted front and windows on the side and rear. The interiors are finished in Alcantara leather and it consists of black leather seats, electronic gauges, immobilizer system, TFE air conditioning system and remote door locks
Shelby Cobra Daytona Coupe Superformance
Shelby Cobra Daytona Coupe 26
Shelby Cobra Daytona Coupe 26